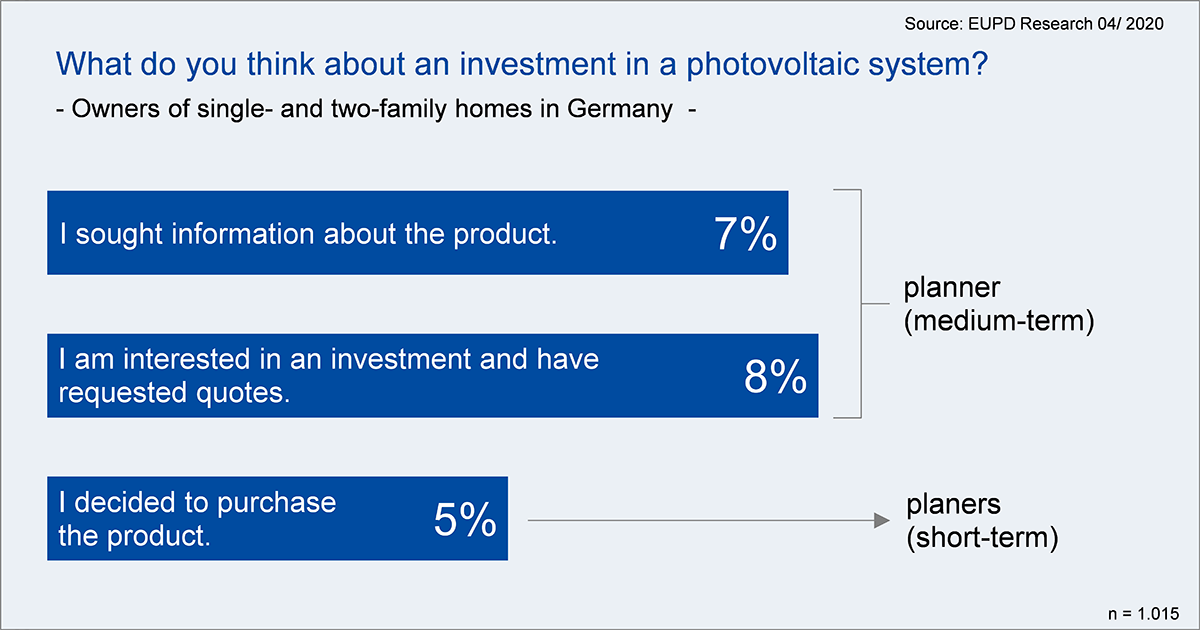 23. April 2020
52 GW Solar Cap as a Huge Barrier to Investment
A survey by EUPD Research among 1,000 home owners in Germany shows still a high willingness to invest in photovoltaic systems. The economic operation of a photovoltaic system was especially emphasized as an important motif to purchase a solar system. Hence, the suspension of the feed-in tariff beyond the 52 GW capacity threshold can be seen as a massive barrier to invest in a solar system.
Bonn, 4/23/20. The German photovoltaics market for small-sized solar plants up to 10 kWp grew to 581 MW last year – an increase by 45 % in comparison to 2018. According to solar installation data published to date, the market continued to grow in January and February of 2020. A national survey of ca 1,000 home owners of single- and two-family houses conducted by Bonn-based market and economic research organization EUPD Research confirms an unbroken trend – despite the coronavirus epidemic. Results clearly state that 5% of surveyed home owners have already decided to purchase a solar PV system. An additional 15% of single- and two-family home owners in Germany are close to the final step of the purchase decision process getting quotes or seeking consultation regarding an investment in a photovoltaic system.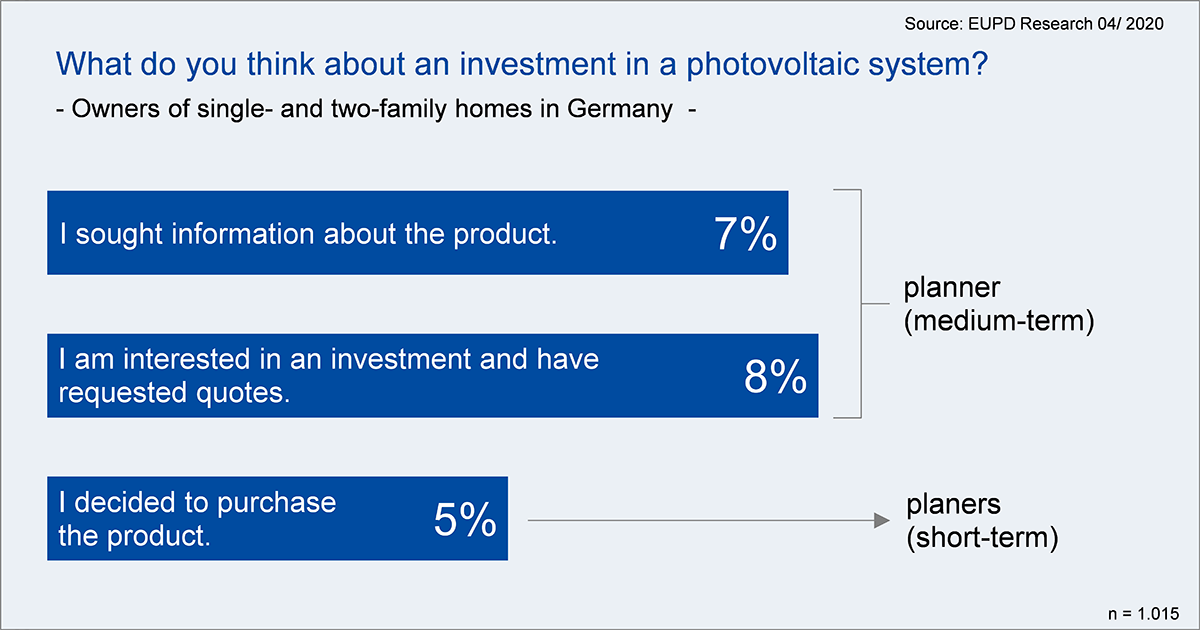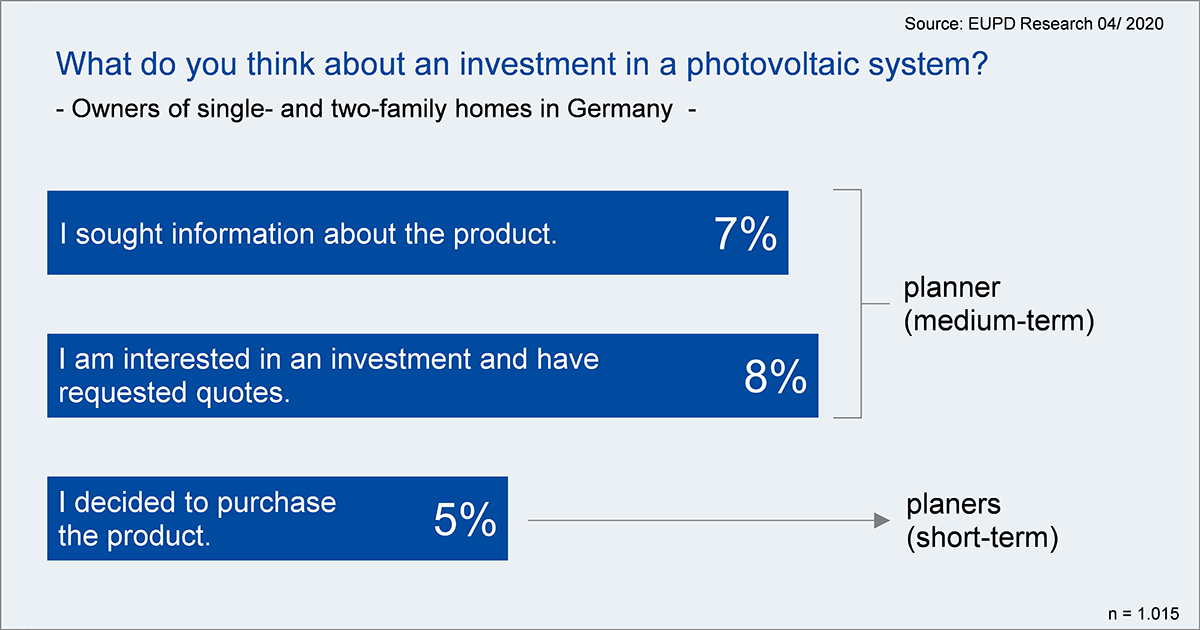 The continuous, strong trend among residential households to purchase a photovoltaic system reflects an increased environmental awareness in the society. But it is also a result of low interest rates and steadily rising electricity costs.  According to current evaluations of EUPD Research, the coronavirus pandemic may not lead to a slump in the market.
The EUPD Research survey also reveals current motives supporting an investment in a photovoltaic system. Similar motives can be identified for the group of home owners that already have taken the decision to purchase a PV system (short-term planners) and those who are screening quotes and seeking consultation (medium-term buyers).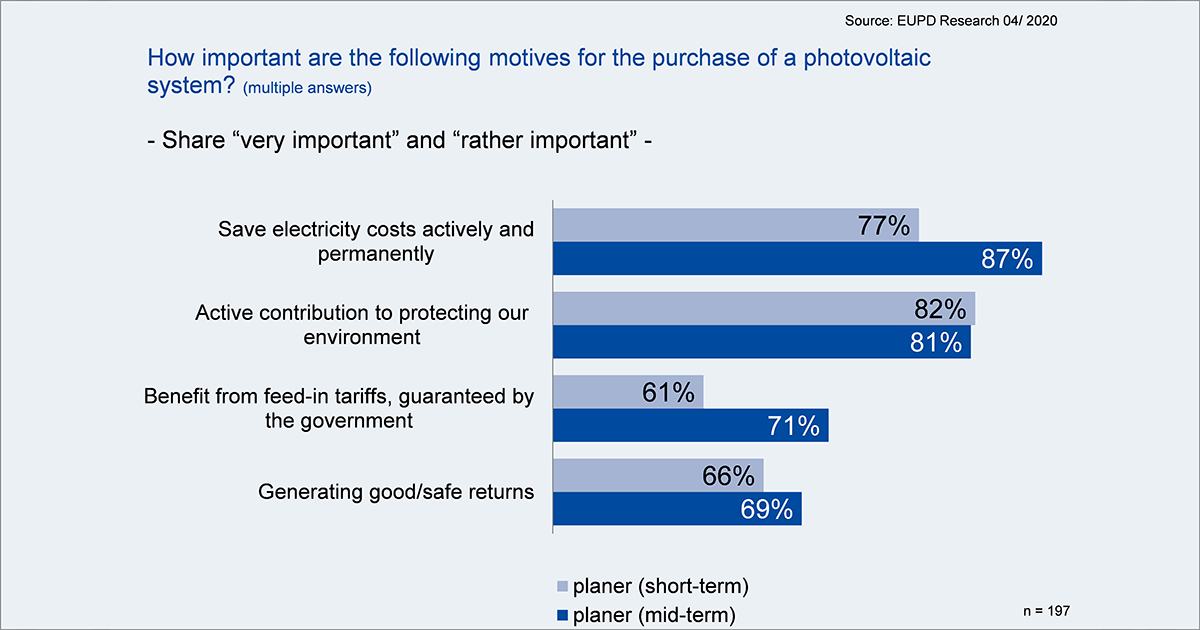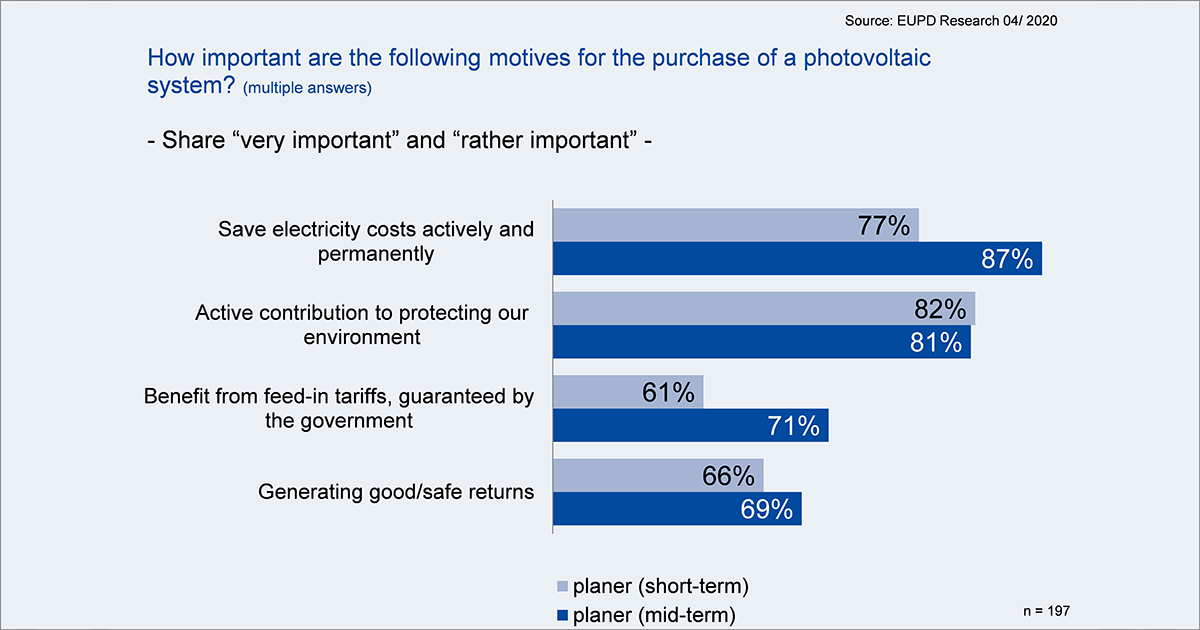 More than 80 percent of planners have an opportunity to actively contribute to environmental protection with a photovoltaic system – which is highly relevant. Home owners with a medium-term planning horizon for photovoltaic investments assign more importance to environmental protection than electricity cost reduction potential. Similarly, the difference can be observed regarding the motive to benefit from the state-guaranteed feed-in tariff. 61% of planners with a short-term and 71% of planners with medium-term investment horizon consider this motive as "very important" or "rather important". The significant increase of the importance of feed-in tariffs is proof that residential households with PV investment intentions deal with the economic operation of a PV system in detail. While tomorrow's buyers of solar systems can count on a feed-in tariff, planers with a medium-term investment horizon face a strong uncertainty.
Currently the EEG (Erneuerbare-Energien-Gesetz/EEG) specifies a 52 GW solar cap for photovoltaics in Germany. This capacity threshold could already be reached in July 2020 as a result of possible anticipatory effects. Once the goal is reached, further newly installed photovoltaic systems may not receive a feed-in tariff anymore. Accordingly, a solar cap regulated in the EEG, determines private households' main motives and willingness to invest in solar PV. This in turn may have a strong, negative impact on the realization of the final purchase decision – if the solar cap is not being removed in a timely manner.
"Our most recent survey clearly corroborates the fact that a purchase of a photovoltaic system only works as a combination of ecology and economy. Thus, a reliable political framework is critical, states Dr Martin Ammon, managing partner of EUPD Research. For commercial investors, who make up the majority of the photovoltaic capacity growth, the connection between ecology and environment has been undisputed for a while. With the EUPD study at hand, described connection could now be verified for private investors.
Dr. Andreas Piepenbrink, CEO of E3/DC, underlines: "Those who plan to acquire a PV system want to actively protect our climate and plan for their future. Every individual solar energy use is an important contribution towards the energy transition and to achieve the climate protection goals. Therefore, a political signal is long overdue: Germany can only continue to be an attractive photovoltaic and storage market if the 52 solar cap was suspended!"
"Besides my responsibility for the company, I am making an urgent plea to the government in my role as BSW (Bundesverband Solarwirtschaft/ German Solar Association) board member. The 52 GW solar cap, which may be reached in summer, must immediately be abolished. We need support and rapid actions by the government without further delays. It is an important decision concerning industry, medium-sized businesses and the society as a whole. The government must act now", states Peter Thiele, President SHARP Energy Solutions Europe.
The current EUPD Research market analysis is being supported by leading representatives of the solar and battery storage sector: BayWa r.e., E3/DC, Sharp and SOLARWATT.